Discover more from Christopher Titmuss - The Buddha Wallah
A Buddhist perspective on social, political and global issues. Mindfulness, meditation and wisdom for daily life. Updates of teaching schedule - online and in person.
Over 6,000 subscribers
This weekend Queen Elizabeth has been sitting on the Throne for 70 years – an Equanimity Portrait. Buddhist meditators often struggle sitting through a seven-day retreat. But…
This weekend, the Queen of England has been sitting on the throne for 70 years. I remember my mother buying a 12 inch (30 centimetres) black and white television with a very grain screen in early June 1953 to watch the Queen's coronation in Westminster Abbey.
Click on portait to enlarge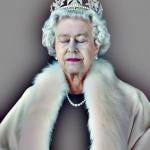 My mother, a devout royalist (unlike her only son, a devout anarchist for many years) invited neighbours to watch the entertainment. Thirty years ago, I wrote a chapter in one of my books (The Green Buddha) on Prince Gautama Siddhartha and Prince Charles (the Queen's son) with an encouragement to Charles to renounce the Palace and go on a spiritual search. Sadly. he didn't. He got himself involved in a messy menage trois (literally 'household of three') with his remarkable wife, Princess Diana and his lover Camilla Bowles. Years later, he married Camilla.
My mother and I went to a concert with a symphony orchestra playing in the Whitgift Centre in Croydon, Surrey in the late 1970s. We watched a wonderful rendering that evening of Ravel's Bolero with its soft beginning and soft ending. At the end of the concert, a loudspeaker played the National Anthem – God Save the Queen. In those days, the National Anthem came on after every film (movie) shown in the cinema.  The authorities gave up playing it because a new generation took no notice and either remained seated, chatted or got up and left.
At the end of the Croydon concert, with mostly an elderly audience, everybody dutifully stood up. I remained rooted to my seat. My mother was horrified. "I did not bring you up to be so rude," she kept telling me on the bus home.
The privileged elite have always allowed themselves to be elevated above the rest with their grandiose titles of self-importance as Her Royal Highness, His Holiness or HIs Excellency.
I prefer Gautama's view. He asked: "Why should I who am subject to birth, ageing, pain and death worship another who is subject to birth, ageing, pain and death?" That is a cool response from a person born into a royal family.  British Punks would have applauded such a comment while the Sex Pistols might have weaved it into a song,
In 2004, Jersey Heritage Trust commissioned Chris Levine, a meditator, to make a portrait of Queen Elizabeth in an outtake from the Equanimity Portraits. Meditators in insight meditation of the Buddhist tradition develop equanimity in the face of challenging experiences.
Could the Queen offer some inspiration to meditators? Or reminders on the dangers of detachment? She has needed a depth of equanimity around dysfunctional family issues, her government and more.  It seems to me our English rulers, regardless of the Party, seem stuck in the 19th century. The English often prefer living in the past to the present. Our current far-right government continues to make strides towards returning the country to the 19th century Victorian-Dickensian era.
Currently, more than two million UK citizens per year with little or no money have to make their way to the 2000 food banks in the country to get a free carrier bag of food so they can eat.  Families, couples and singles are forced into making a choice around eat or heat. A study of 2000 children showed 45% of children go to school without breakfast.
During long periods of lockdown, politicians, civil servants and their guests held frequent parties, month after month, in the offices of the heart of government while tens of thousands died or suffered from Covid.  At the same time, the government issued laws with heavy fines to prevent families and loved ones getting together to support each other or attend funerals. The behaviour of the prime minister, certain ministers and senior servants displayed decadence and an utter indifference to society.
Does the Queen (personal wealth: $530 million) and the Privy Council (her personal advisors) sit with their eyes closed to the desperate plight of the poor because they are fearful of expressing compassion, fearful of sounding political? The head of state and her advisors have cultivated a virtue for 70 years out of seeing and saying nothing. The lowest caste can show their deference and subservience to the Royals but should not expect a whisper of real support in return.  Image is everything in the world of the super privileged. Reality gets in the way of the image.
Is our Queen so aloof, she is out of touch? Has she been in this situation since birth? Did the Royals and the Privy Council shape her persona. Perhaps she never had the opportunity to express herself. Does the portrait of Elizabeth with closed eyes reveal her circumstances? There is more than one way at looking at this impressive portrait.
Meditators too can close their eyes to the world, thus making equanimity the goal of meditation, instead of regarding meditation as a preparation for noble service through the voice, the written and action.
From an Interview I read with Chris Levine, the Artist
Multidisciplinary artist Chris Levine is known for the sort of technical art wizardry that leaves jaws dropped, minds boggled and eyes dazzled. During a career spanning photography, installation, design, music and fashion, he's collaborated with the likes of Grace Jones and Massive Attack and captured the likeness of everyone from Kate Moss to the Dalai Lama in his distinctive lightbox format.
But he's perhaps best known for one of the most astonishing portraits of Queen Elizabeth II ever made, commissioned to mark Jersey's 800-year of allegiance to the Crown in 2004. More recognisable still is an image that emerged from an outtake from said commission.
Lightness of Being captured the monarch with her eyes closed as she rested between shots. The resulting hologram is meditative, ethereal and hyper-contemporary, and in the long and fruitful history of Royal portraiture, is entirely remarkable.
Lightness of Being, depicting the Queen with her eyes closed, was made years later based on an outtake from the Equanimity portraits. How did this come about, and why do you think it still resonates?
CL: To shoot [in] 3D we used a digital camera that moved along a linear track in front of the Queen. …There was a lot of light on Ma'am while we were shooting and each pass of the moving camera took a while to reposition and recalibrate. I was concerned that it was uncomfortable between passes and suggested to Ma'am that she rested between shots. She closed her eyes, and we captured the moment. Some years later, I was reviewing the outtakes from the sittings and came across the shot and was blown away. I immediately put a filter on it and the piece was made. It's as if I channelled it. The only tweak I made to it was to the colour of the lipstick and I gave it a contemporary spin.
I think that with the eyes closed it somehow takes the viewer into a spiritual realm and from there it touches people. It goes beyond the physical and conveys a sense of lightness, of being. The title came to me in meditation.
Mario Testino told me it was the most beautiful image of the Queen he'd ever seen and inspired me to show it to the world. My exhibition 'Lightness of Being' was in 2008 and the rest was history. The NPG said it was the most evocative image of a royal by any artist. 
Queen Elizabeth, 96, married Philip Mountbatten but she did not change her name from Windsor to Mountbatten due to the anti-German feelings in the country during  time of warfare. This weekend (4-5 June 2022) the country celebrates her long reign. She becomes the first British Monarch to have a Platinum Jubilee after 70 years of service.
Dear Elizabeth,
Thank you for 70 years of service to the country and worldwide, as well as your equanimous presence.
Have a lovely weekend.
Love
Christopher