Discover more from Christopher Titmuss - The Buddha Wallah
A Buddhist perspective on social, political and global issues. Mindfulness, meditation and wisdom for daily life. Updates of teaching schedule - online and in person.
Over 6,000 subscribers
Start an Insight Journal. Free from streams of words about what you think, what you did and who you saw.
We often think of a diary or journal as an account of what did from one day to the next. We might write about our feelings and thoughts about ourselves, another(s) and places.
From time to time, you might uncover an insight when you write about an experience.
An Insight Journal (to give this kind of journal a name) makes insight the whole purpose of the writing.
Regard mindfulness as the first step like learning to walk. A depth of mindfulness contributes to clear seeing.  As with walking, you establish mindfulness to the extent necessary for insight to arise.
You might keep the journal beside your bed or on the breakfast table or a small diary in our pocket.
To keep such a journal, you must be honest with yourselves. You are not writing about your fantasies, daydreams and multiplicity of views about people, places and activities in your life. You do not feed whims, expectations or cling to anybody or anything from the past, present and future.  An Insight Journal goes much deeper than that.
The purpose of the Insight Journal includes reflections to:
acknowledge and learn from the most difficult moments of the day

appreciate the beautiful moments of the day

develop what needs to be developed

explore a wise attitude to circumstances

overcome what needs to be overcome

question fear, anger and  reactivity. 

find a different response rather than reactive one

reflect on what matters

see and express wise alternatives
You do not limit an Insight Journal to yourself but can include insights into another(s), situations and circumstances.
Here are 10 points for Reflection for your Insight Journal.
What do you need to change?

What do you need to accept?

What do you need to develop?

What do you need to start?

What do you need to maintain?

What do you need to bring to a closure?

What expands the heart?

What do you need to share?

What actions do you need to take?

What confirms freedom of being?
Experience comes first. Reflection/writing follows. Insights and understanding follow on. You apply the insights.
You know  an insight/understanding because you apply it. If there is no application, then you had a good idea. That's all.
Live with Insights. Live with understanding. Live with wisdom.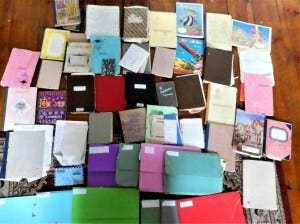 Photo shows 40 plus journals and diaries including notes from talks of teachers, reflections and adventures. Foot of photo shows 10 folders (one per year) with a total of 427 letters sent home. My mum kept every letter in a shoebox. Period covers 1967-1977, including six years as a Buddhist monk in Thailand and India. Spent first year of Pandemic writing a memoir of this time titled TEN YEARS AND TEN DAYS. Book will be available soon.
Tick box at very foot of blog to be notified of new posts by email.
www.christophertitmuss.net
New header. Picture shows desk at home.