Discover more from Christopher Titmuss - The Buddha Wallah
A Buddhist perspective on social, political and global issues. Mindfulness, meditation and wisdom for daily life. Updates of teaching schedule - online and in person.
Over 6,000 subscribers
January 2022. Christopher E-News. Fear and the Earth. Memoir. International Zoom Programmes in Five Time Zones. Links to Recent Blogs and More
Dear Dharma Friends,
Here is the January e-News. We have around 7,000 subscribers
DELTA/OMICRON, STATE OF THE EARTH
AND TRANSFORMING FEAR
We live in challenging times with two global pandemics, Delta and Omicron, and global uncertainty for the Earth and our human condition.

The Buddha referred regularly of the intimacy of consciousness with the four primary elements and the importance of a wise relationship with them.

We witness the global pandemic and the impact of the elements – earth (destruction, exploitation) air (pollution/virus/tornadoes) heat (climate change/high temperatures/forest fires) and water (melting icecaps/rainstorms/intense monsoons/floods).

The current impact and the potential for greater impact can contribute to increasing our level of fear about the days, weeks, months, and years ahead. The painful experience of exposure to an upheaval of the elements can leave a person traumatised and more.

Teachings and practices point the way to transformation of fear – all of it. There are only three areas for fear to express – heart-mind, communication (spoken/written) and body. Fear may grow at the personal level, social, political, and global level. Fear reveals a contraction around an issue.

For further exploration of transforming fear in the global crisis, please visit
LET US FIND WAYS TO ACT WITHOUT FEAR
Sensation in pit of stomach does not confirm fear. Identification with and reacting to such a sensation confirms fear.

Fear can show itself in thought, word, and deed without experiencing a sensation in the body.

Sharing of experiences

Exploring together or alone alternatives to dissolve fear

Taking small, bold steps

Remembering our capacity to act without fear in the past

To find inspiration from others to act fearlessly

To meditate on the fearless

To stay receptive to this big field of co-existence

To develop dignity and integrity through not caving into fears.
CONTENTS
Twenty Recent Blogs of Christopher

TEN YEARS AND TEN DAYS. A Travel Memoir between 1967-1977, including six years as a Buddhist monk.

Residential Retreats. Dharma Yatra. Germany 2022

Zoom Teaching 2022. Worldwide. Australia. Europe. India. Israel. UK

Zoom on Noble Eightfold Path and Buddha Study Guide for 2022

Audio Talks and Podcasts

Donations

Mindfulness Support Service. Little Shop of Mindfulness

To Respond
1.
TWENTY RECENT BLOGS OF CHRISTOPHER
2.
TEN YEARS AND TEN DAYS. A 528 PAGE MEMOIR
The Memoir of 10 years on the road includes a hippy life, mind altering drugs, romantic encounters and brushes with death. The book covers travels through 20 countries, the discipline of a strict Vipassana monastery in Thailand, nine months in a cave and meetings with leading spiritual teachers in Thailand and India.
I posted to friends around the world, who are seniors in the Dharma, a copy of the book.
The years of my life as a monk generated by far the most interest among readers.
I gave accounts of my practices, ways of expanding consciousness, times of pushing the mind to extremes and exploring the breadth and depth of the Dharma.
I had the opportunity to meet and talk with some of the finest spiritual/Buddhist /Hindu teachers in Thailand and India.
Besides the letters, I also drew upon more than 30 diaries and notebooks, plus memory of events from 1967 to 1977.
The freedom to explore confirms an infinite potential for discovery.
TEN YEARS AND TEN DAYS ISBN 978-1-5272-8274-2 Published June 2021.
£14.95. 528 pages.
£6.95 Kindle e-Book.
Kindle version also contains 25 photographs.
(Amazon edition polished, plus corrected typos and extra paragraphs added). The book and Kindle edition is available on AMAZON in Australia, France, Germany, UK, USA and other countries. Available on Kindle in India.
Here are the links to these countries.
AMAZON UK
https://www.amazon.co.uk/TEN-YEARS-DAYS-Christopher-Titmuss /dp/1527282740/ref=sr_1_1?dchild=1&keywords=Ten+Years+and+Ten+Days& qid=1632749120&s=books&sr=1-1 AMAZON KINDLE UK
https://www.amazon.co.uk/TEN-YEARS-DAYS-Christopher-Titmuss-ebook/dp /B098R1B98L/ref=tmm_kin_swatch_0?_encoding=UTF8&qid=1632749120& sr=1-1
AMAZON.COM (USA). For Paperback and Kindle
https://www.amazon.com/TEN-YEARS-DAYS-Christopher-Titmuss
/dp/1527282740/ref=sr_1_1?dchild=1& keywords=Ten+Years+and+Ten+Days+Christopher+Titmuss& qid=1632749364&s=books&sr=1-1 AMAZON.AU (Australia) https://www.amazon.com.au/TEN-YEARS-DAYS-Christopher-Titmuss-ebook/dp
/B098R1B98L/ref=sr_1_1?dchild=1& keywords=Ten+Years+and+Ten+Days+by+Christopher+Titmuss& qid=1632749496&s=books&sr=1-1 AMAZON.DE (Germany) https://www.amazon.de/TEN-YEARS-DAYS-Christopher-Titmuss
/dp/1527282740/ref=sr_1_1?__mk_de_DE=%C3%85M%C3%85%C5%BD
%C3%95%C3%91&dchild=1& keywords=Ten+Years+and+Ten+Days+Christopher+titmuss&qid=1632749581& qsid=258-2694970-6912509&s=books&sr=1-1&sres=1527282740& srpt=ABIS_BOOK AMAZON.FR (France) https://www.amazon.fr/TEN-YEARS-DAYS-English-ebook/dp/B098R1B98L /ref=sr_1_1?__mk_fr_FR=%C3%85M%C3%85%C5%BD%C3%95%C3%91& dchild=1&keywords=Ten+Years+and+Ten+Days+Christopher+Titmuss& qid=1632749725&qsid=261-7646764-0168834&s=books&sr=1-1& sres=1527282740&srpt=ABIS_BOOK
If you read the book, would you kindly insert a comment on the Amazon page of the Memoir. THANK YOU.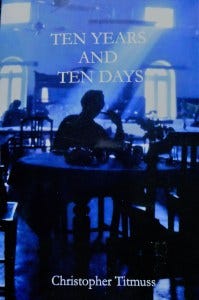 3.
RESIDENTIAL RETREATS.
MINDFULNESS/INSIGHT MEDITATION RETREATS
With Christopher
Zentrum for Buddhismus
29 April – 6 May 2022
One hour from Bonn/Cologne
Waldhaus Am Laacher See
56643, Nickenich, Germany
+49 2636 3344
Nearest railway station: Andernach To Register for any retreat, send email to:
info@buddhismus-im-westen.de Do come.
MINDFULNESS/INSIGHT MEDITATION RETREATS
Seminarhaus Engl
2-8 July 2022
GERMANY. NEAR MUNICH
Christopher and Ulla Koenig
Seminarhaus Engl e.V.(one hour from Munich)
Engl 1
84339 Unterdietfurt, Germany www.seminarhaus-engl.de
Phone +49-(0)8728-616
Email: info@seminarhaus-engl.de
The retreats consist of comprehensive mindfulness/meditation instructions in sitting, walking, standing/reclining, inter-views with myself, inquiry, questions and answers and a daily talk. Silence is a major feature of these retreats. Suitable for beginners and experienced meditators.
Waldhaus website will provide residential costs. The teacher invites donations at the end of the retreat to support the ongoing teaching.
GERMANY
DHARMA YATRA (10-Day Teachings/Practices/Pilgrimage)
Christopher and Ulla Koenig
2 – 12 August 2022
We hold the Yatra (Dharma/eco pilgrimage) starting near Reutlingen, near Stuttgart, 90 minutes south on train from Frankfurt www.dharmayatraworldwide.org
Places for maximum of 60 people including 10 places for under 16-year-olds. We offer a plant-based diet. We walk through forests and on tracks beside organic farms.
Registrations start at 8 am (CET) Monday 14 March 2022.
Registration 120 Euros. Request for Donations for two teachers at end of Yatra. Three supported places. 60 Euros registration fee. The three people arrive a day early and leave a day later for construction and deconstruction of campsite.
4.
UK ZOOM
WE JOURNEY FROM BIRTH ONTO DEATH.
DOES LIFE OFFER SOMETHING MORE?
Sunday 30 January 2022. 20.00-21.30 (CET)
Zoom with Christopher. Sangha Live.
Theme: Life seems an inevitable movement in the field of time until death interrupts.
Amidst the myriad number of events, welcome and unwelcome, we hastily conclude the way we perceive reveals the way things are.
We might find ourselves convinced of a bend at the end of the road or not.
We base our views on notions of time, of divisions of past, present and future.
We think we are wired this way. That's what we think.
Thought is unreliable.  Receptivity outside the tiny construction of thought matters.
A single sentence can change a life.
Don't forget a simple truth. You never thought it could happen.
And it did.
Sunday 30 January 2022
20.00 – 21.30. CET. 
19.00 – 20.30. UK time. 
2pm ET (N.Y.)
90 Minute Session
The session includes a
30-minute guided meditation on the theme.
30-minute Dharma talk on the theme.
30-minute Question and Answer session.
Click on website below for info. There is no registration fee. On donations for SanghaLive team and teacher.
WHAT IS THE ULTIMATE TRUTH?
with Christopher. Zoom via Sangha Live.
20.00 – 21.30 CET Sunday 5 June 2022.
https://www.christophertitmussblog.org/what-is-the-ultimate-truth-video-audio90-mins-with-christopher-guided-meditation-talk-q-and-a-via-sangha-livesunday-5-june-2022
AUSTRALIA ZOOM
With Christopher
Friday 14 – Wednesday 19 January 2022.
Theme. Facing Challenges. Transforming Challenges.
Most of us find every year we face two or three challenges on specific issues.
Can we prepare for these challenges? What contribution does mindfulness/insight meditation and sharing of experiences make to support us in these times? What do we need to remember?
The days will consist of three 60-minute Zoom meeting per day including talks, comprehensive instructions, guided meditations, questions and answers and sharing. We will encourage specific mindfulness/meditation practices at home, work and elsewhere. You are invited to attend as many zoom sessions as you can.
To Register: christopher@insightmeditation.org
ISRAEL ZOOM.
Series of Talks/Practices on each link in Noble Eightfold Path. Israel time zone. One day per month.
Organised by Mindfulspace. Three sessions per day. To be held on a Saturday.
Right means comprehensive, fulfilling as well as ethical.
Please note a change in a date may take place during the year.
8 January 2022 Right Understanding
12 February Right Intention
5 March Right Speech
9 April Right Action
7 May Right Livelihood
4 June. Right Effort/Endeavour
18 June Right Mindfulness
30 July Right Meditative Concentration
8am-9am CET. 9am-10am Israel time. Introduction and Guided Meditation 14.00-15.00 CET. 15.00-16.00 Israel Time. Talk. Q and A. and Guided Meditation on Theme.
16.00-17.00 CET. 17.00.18.00 Discussion Groups (without teacher) 19:00-20,00 CET. 20.00.21.00 Israel Time. Talk and Q and A.
https://todaabria.mindfulspace.co.il/christopher-titmuss/ support@mindfulspaceilhelp.freshdesk.com
5
ZOOM ON THE NOBLE EIGHTFOLD PATH AND BUDDHA STUDY GUIDE FOR 2022.
Join the Buddha Study Guide (BSG)
With Christopher
A One Day per Month Study of specific Discourses of the Buddha.
Three 60-minute sessions.
Comprehensive PDF guide provided and PDF of Ulla Koenig's Commentary on
12 major discourses
To register and receive Zoom link.
Upcoming Dates.
Saturday 29 January.
Saturday 26 February.
Saturday 26 March.
Participants will receive a PDF of the Buddha Study Guide and a PDF of Ulla's reflections/analysis of the major discourses.
Suitable for those with knowledge of the Buddha's teachings and beginners.
The discourses reveal a depth suitable for daily life.
You will find treasures in the texts.
We will focus on the Middle Length Discourses of the Buddha – the most loved book of teachings with 152 discourses.
Register with christopher@insightmeditation.org
Please go to Folder on Google Drive. You will see introductory audio talks on the Noble Eightfold Path and the Buddha Study Guide. The Path contains brief reflections on each link. BSG contains reflection on three discourses of the Buddha. See Zoom dates above for teachings on the Eightfold Path and dates for BSG.
Eightfold Path. Buddha Study Guide. 2021-2022
6.
AUDIO TALKS Available on Soundcloud www.archive.org and Podcasts We have 1280 audio talks on SoundCloud.
We have 422 audio talks on www.archive.org
We have 182 audio talks on iTunes Podcasts
Archive.org: https://archive.org/search.php?query=Christopher%20Titmuss
Soundcloud: https://soundcloud.com/search?q=Christopher%20Titmuss Podcasts: https://podcasts.apple.com/gb/podcast/dharma-talks-by-christophertitmuss/id730083641
We are also expanding the number of talks available online. You can have access to the podcasts via your mobile phone or your desktop computer.
On your desktop computer, you go to:
You can use your mobile phone to install an app, named Archivist (Android). This will enable you to have access to all the talks on www.archive.org on your mobile.
You can download to your mobile phone the app, named SoundCloud (Android and Apple), to have access to the podcast.
We will also upload a selection of Dharma Enquiry sessions. These consist of Christopher's one to one sessions with individuals in the meditation hall. These 'inter-views' explore a wide range of personal, social and global issues.
7.
DONATIONS. Different Ways to offer DANA to support the teacher. https://www.christophertitmuss.net/donations.
If you wish to support the teachings of Christopher Titmuss
Go to Donations link on above website.
Please Click on RED button To Donate. Donations can be made via your PAYPAL account OR via your Debit or Credit Card. You do not need a PAYPAL account.
Please click on the BLUE Donate button to donate via STRIPE.
Inspired by his years as a Buddhist monk (1970-1976) Christopher depends upon donations rather than charge for teachings. Christopher only teaches in centres where he considers the daily rate affordable.
You can also make a bank transfer to my bank account in Devon, England. I will email you my bank details. christopher@insightmeditation.org THANK YOU FOR YOUR KIND SUPPORT.
8.
MINDFULNESS SUPPORT SERVICE. WEBINARS FOR FAMILIES AND PUBLIC SERVANTS
MSS offers webinars in the evenings for children and adults, including troubled households. Founder of MSS is Nshorna Davis (daughter of Christopher). MSS is primarily funded through grants and personal donations. MSS also provides mindfulness practices to support public service employees.
info@mindfulnesssupportservice.org www.mindfulnesssupportservice.org
Basic Mindfulness with Christopher course offers an introduction to mindfulness. It consists of six short videos with reflections to provide you with tools to support daily life. A small donation of £5 is appreciated to support MSS.
https://msscourses.thinkific.com/courses/basic-mindfulness
Launched in October 2020, The Little Shop of Mindfulness, created by Nshorna, supports well-being through mindfulness practice tools. TLSM sells affordable gift sets, plastic free, to develop calm and clarity in daily life. A mindfulness instruction card goes with every gift set. Survivors of domestic violence receive 5% of profits.
Mindfulness on Etsy www.etsy.com/uk/shop/shopofmindfulness.
9.
TO RESPOND.
Teachers, managers, directors of centres, organisers and staff connected with our programmes, residential and Zoom, offer a service. This principle applies before the programme we offer, during the event and after. A small team of people often give support to a large group. If you feel concern on any matter whatsoever with any of our responses to you, before, during or after an event, please email us. Where and when? What was written? What was said? What happened? We will address your concern and get back to you or you can contact the centre to express your concern.
Do join our events in 2022.
Do forward this e-News or sections onto others and/or through social media.
Thank you.
Stay well.
Love
Christopher
www.christophertitmuss.net/donations
Copyright © 2021 Insight Meditation, All rights reserved.
Want to change how you receive these emails?
You can update your preferences or unsubscribe from this list