Discover more from Christopher Titmuss - The Buddha Wallah
A Buddhist perspective on social, political and global issues. Mindfulness, meditation and wisdom for daily life. Updates of teaching schedule - online and in person.
Over 6,000 subscribers
From Mindfulness to Insight. 16 Open Doorways.
A genuine insight frees the mind up, opens the heart and transforms perceptions. Insights can run very deep affecting the very cells of our being.
One sentence in a book can change our lives.
Insights contribute to living with wisdom in the face of daily life.
16 SOURCES FOR INSIGHT
Adventure
Discussion
Inquiry
Listening
Meditation
Mindful Living
Nature
Questions
Reading Experience
Receptivity 
Reflection
Silence
Solitude
Speaking
Spontaneous Arising
Wise Attention
Are you committed to all of the above?
Do you need to develop some of the above doorways?
Invaluable insights can come from experience, beautiful and ugly, pleasurable and painful, and through the most mundane of events.
Insights open our consciousness to wake us up from the sleep of mundane existence and habitual and restricted patterns.
We develop mindfulness to know find the wisdom to know ourselves and know others.
Know Thyself is half the story of an engaged life.
Track leading down into Totnes (Devon, UK).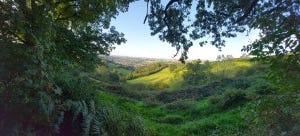 In the far distance, you can see Totnes and beyond lies Dartmoor – a raw landscape of exceptional natural beauty.
Click on the picture.
.A BBC TV documentary earlier this year (2021) referred to Totnes as a "fiercely independent town."
Cool.
A questioning mind contributes to insight.
Solitude contributes to insight.
Tick box at very foot of blog to be notified of new posts by email.
www.christophertitmuss.net