Discover more from Christopher Titmuss - The Buddha Wallah
A Buddhist perspective on social, political and global issues. Mindfulness, meditation and wisdom for daily life. Updates of teaching schedule - online and in person.
Over 6,000 subscribers
A beautiful Thai Forest Monastery, Wat Pa Tam Wua. Dedicated to support Meditators. See link and five photos
I hear regularly appreciative reports of Wat Pa Tam Wua , a monastery for Vipassana (Insight Meditation), 37 kilometres from Mae Hong Son province in northern Thailand. We approach the end of 2022.
Some of the Sangha of Meditators has in itch in its feet. The East beckons. A retreat beckons. There is a shift from lockdown to open up.  Here is a Thai monastery to consider.
There is a deep and abiding love in the Buddhist tradition of the precious element of natural beauty, care and protection for all creatures and support for human beings of all ages to live with love and compassion.
Take a look at the aerial photo on the home page of the website for Wat Tam Wua Monastery.
Click on website link immediately below. Having spent years as a monk in beautiful monasteries in southern Thailand, I had an immediate response to the cover photo on the website below. Phew. A corner of the Garden of Eden!
FROM THE WEBSITE
Wat Pa Tam Wua Forest Monastery offers spiritual guidance to those who wish to seriously practice meditation in a peaceful and natural monastic setting – capturing green nature, peaceful stream, natural caves and never ending waterfalls of these spectacular Northern of Thailand.
Staying at Wat Pa Tam Wua is free of charge to all public who seek practices of spirituality.  Participants are asked to be discipline in their practice, to follow the daily schedule, observe the monastery rules and keep their area tidy and clean.
We offer spiritual guidance in practicing Vipassana Meditation. Many practitioners came from many countries around the world to practice meditation.
No matter practitioners from the beginners or the advance level are allowed flexible meditation methods, however, Vipassana or Mindfulness on Breathing is the mainstream of practice here.
The sacred grounds must not be viewed as hotels or resorts.
Proper meditation instruction, as well as appropriate views on natural laws and phenomena, are provided to the lay communities by Thai-English speaking monks.
We provide full accommodation such as single kuties, (huts, dormitories, as well as two vegetarian meals per day with tea, coffee, juice or soy milk in place of dinner.
1. Kindly bring an ATK self-test kit (to test for Covid) on arrival at the monastery.
2. Bring passport to see date stamps upon arrival in Thailand.
3. Or Thai ID Card upon checking in at Reception.
To email: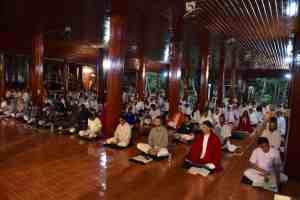 IF YOU CONSIDER GOING TO THE MONASTERY
Please remember to read all the information on the website.
If you go to the monastery or another Buddhist monastery, you are stepping into a 2500-year-old tradition. Be respectful of the religious culture and forms. Give yourself time to adjust to another way of life.
The Buddhist tradition offers the teachings/practices and food/accommodation as a gift for meditators. Monks and nuns regard the teachings as priceless, beyond financial measurement.
Householders wear white as an expression of modesty in clothing.
The monastery will happily receive donations (dana).
Your practice in such a monastery can contribute to your lifelong welfare and wisdom and of deep benefit for others., creatures and the environment. In my view, the benefits of such support more than offset the carbon cost of a flight from the West.
Untied to a single teacher, form, method or technique, we are blessed with a connection to the expansion of the Buddhist tradition. There are centres/monasteries worldwide offering retreats, short and long term, often based on a modest daily rate, donations or freely given. A wonderful resource for meditators.
See spare details of centres/monasteries around the world in the link below.
www.insightmeditation.org/resources
MAY ALL BEINGS LIVE WITH INNER PEACE
MAY ALL BEINGS LIVE WITH WISDOM
MAY ALL BEINGS LIVE KNOW LIBERATION